In Honor of RaptureFail, Let's Look at Debbie Harry
All too often, our society seems to get caught up in the Next New Thing. And we here at TSB can be guilty of that too. We're always using this Monday Hot Babe slot to focus on a new girl, usually whatever attractive maiden is the lead female role in whatever action movie is about to be number one at the box office. Well, that stops today. (At least for today. Unless you make it known in the comments below that you're looking for a Classic Monday Hot Babe now and then!) In honor of the supposed Rapture failing to take away all of the holy to leave nothing but us sinners here on Earth, we present to you the lady who sang "Rapture" for Blondie way back in the day: Classic beauty Debbie Harry. Enjoy.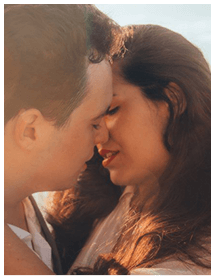 Simple Trick Tells You if a Girl Wants You to Kiss Her
Do girls leave you confused as to whether or not they like you?

Let's face it. Girl's don't make it easy for you. She will often send mixed signals leaving you unable to tell if she is being friendly or flirty. If you read her signals wrong you risk rejection and embarrassment. Or worse, you blow it with a girl who wanted to kiss you.
Here is a simple and innocent move that will instantly tell you if you're in the friend zone, or if she's waiting for you to kiss her.

We respect your email privacy
About Rick Mosely Rick is the editor for TSB magazine.