It's Been Awhile Since We Mentioned Christina Hendricks
One of the stipulations of our contract is that we are allowed to post photos of Christina Hendricks once every few months. This guarantees that we will be allowed to view the gorgeous Hendricks on a regular basis, which makes toiling in front of our computer in the darkness of our lair that easier to stand. But with Mad Men seemingly never coming back — Jesus, guys, let's get this new season done and out there already! — we're left to come up with odd excuses for reasons to post photos of her. "So-and-so mentioned her in an interview," "We saw someone on the street that kind of looked like her," and "We know someone named Christina," are the kinds of excuses we're always doling out. But no more! She is in a new movie that is getting quite a lot of buzz called Drive, and that, well, is reason enough. So, then: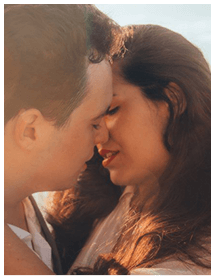 Simple Trick Tells You if a Girl Wants You to Kiss Her
Do girls leave you confused as to whether or not they like you?

Let's face it. Girl's don't make it easy for you. She will often send mixed signals leaving you unable to tell if she is being friendly or flirty. If you read her signals wrong you risk rejection and embarrassment. Or worse, you blow it with a girl who wanted to kiss you.
Here is a simple and innocent move that will instantly tell you if you're in the friend zone, or if she's waiting for you to kiss her.

We respect your email privacy
About Rick Mosely Rick is the editor for TSB magazine.