A Happy Birthday to the Gorgeous Emmy Rossum
Emmy Rossum is pretty lucky in our opinion. She has a first name that we're not exactly "on board" with. It seems to be trying just a bit too hard to, you know, make her into some kind of award winner in the TV realm. (People would vote for her simply because they get confused and think they're voting for the actual awards to take place at all.) Seems a bit deceptive to us. But, seeing as she's as gorgeous as she is, she gets a bit of a pass from us. ESPECIALLY today, that, the day of her birth. So we're going to with her a happy birthday by celebrating the way we celebrate all amazingly attractive women: By putting together a gallery of her gorgeousness. So, here it is.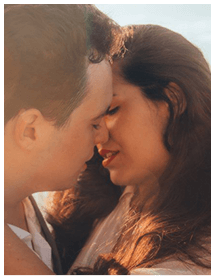 Simple Trick Tells You if a Girl Wants You to Kiss Her
Do girls leave you confused as to whether or not they like you?

Let's face it. Girl's don't make it easy for you. She will often send mixed signals leaving you unable to tell if she is being friendly or flirty. If you read her signals wrong you risk rejection and embarrassment. Or worse, you blow it with a girl who wanted to kiss you.
Here is a simple and innocent move that will instantly tell you if you're in the friend zone, or if she's waiting for you to kiss her.

We respect your email privacy
About Rick Mosely Rick is the editor for TSB magazine.