Let's Welcome Demi Moore Back to the Single Life
So, Demi Moore is single ahead. This is fun news because, for the longest time now, she was nothing more than Ashton Kutcher's much older wife. She had kind of fallen mostly off the radar except for the occasional flourish of anger due to being outraged over something. (We don't really follow the news whenever celebrities get angry about something around here.) But now, seeing as she's going to be back on the market as soon as the papers go through, it's time to once again remember that, damn, she is one fine piece of hotness. Let's all remember just how hot she really is and was through this reminder gallery.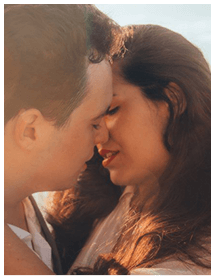 Simple Trick Tells You if a Girl Wants You to Kiss Her
Do girls leave you confused as to whether or not they like you?

Let's face it. Girl's don't make it easy for you. She will often send mixed signals leaving you unable to tell if she is being friendly or flirty. If you read her signals wrong you risk rejection and embarrassment. Or worse, you blow it with a girl who wanted to kiss you.
Here is a simple and innocent move that will instantly tell you if you're in the friend zone, or if she's waiting for you to kiss her.

We respect your email privacy
About Rick Mosely Rick is the editor for TSB magazine.