Sara Paxton, A Possible New Scream Queen?
The trick to life that anyone will tell you is to find something you love doing, and then just keep on doing it. (And, ideally, find someone to pay you to do it.) And that's the same way it is with acting. Once you get to the point where you can finally relax and not have to worry about covering your rent, you can start to be picky and choose the roles you actually want to do. Which is why, in some cases, you have actors returning to the same genre or type of movie over and over. Such is the current career of the lovely Sara Paxton, who has been spending the last few years acting in horror movies. Last House on the Left, Shark Night 3D, and now, the one that is getting all the big buzz for the right reasons, Ti West's The Innkeepers. With that last movie out in theaters now, we thought it a good time to have a little get-to-kn0w-each-other gallery of Sara Paxton.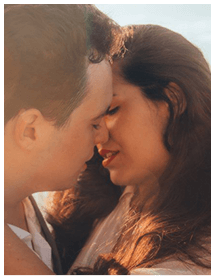 Simple Trick Tells You if a Girl Wants You to Kiss Her
Do girls leave you confused as to whether or not they like you?

Let's face it. Girl's don't make it easy for you. She will often send mixed signals leaving you unable to tell if she is being friendly or flirty. If you read her signals wrong you risk rejection and embarrassment. Or worse, you blow it with a girl who wanted to kiss you.
Here is a simple and innocent move that will instantly tell you if you're in the friend zone, or if she's waiting for you to kiss her.

We respect your email privacy
About Rick Mosely Rick is the editor for TSB magazine.