Let's Welcome Heidi Klum Back into the Singles Scene
And so, once again, it's time to celebrate the ending of a marriage by showing a gallery of the female that was involved in said marriage. This week, the prize for us on the singles scene is non other than who was, for a significant period of time, considered the most beautiful woman in the world: Heidi Klum. Now that that news that her marriage to singer Seal (which, let's be honest here, was kind of a weird union to begin with and seemingly destined to fail) is over, it means that Klum is going to be trying to find her new suitor. And while there's an extremely high likelihood she's not going to just pop up at the bar you happen to be drinking at, one can fantasize about it. And, to help along that fantasy, here's some great photos of Ms. Klum herself.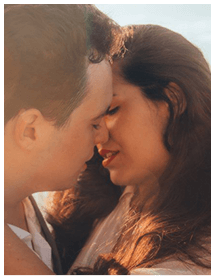 Simple Trick Tells You if a Girl Wants You to Kiss Her
Do girls leave you confused as to whether or not they like you?

Let's face it. Girl's don't make it easy for you. She will often send mixed signals leaving you unable to tell if she is being friendly or flirty. If you read her signals wrong you risk rejection and embarrassment. Or worse, you blow it with a girl who wanted to kiss you.
Here is a simple and innocent move that will instantly tell you if you're in the friend zone, or if she's waiting for you to kiss her.

We respect your email privacy
About Rick Mosely Rick is the editor for TSB magazine.