We Would Gladly Become Vampires For Eva Green
We have yet to see the Tim Burton remake of "Dark Shadows," so all we have to go on to form our opinion on it is the trailer. But there's something that just doesn't sit right with us in that little preview of the movie. During the entire thing, Johnny Depp is given some kind of curse by an evil witch (played by Eva Green) because he won't submit to her temptations? Is that what we're supposed to get from that? Because, frankly, that just doesn't make any sense. Why would ANYONE not submit to the will of the lovely Eva Green, who is probably one of the top 10 most attractive women currently working today? Does anyone have a logical explanation for this, other than that she's the spawn of Satan and will take your soul, in which case, still, we'd be more than willing to make that trade? That, really, is what makes us hesitant on this movie. That they've made someone NOT WANT Eva Green.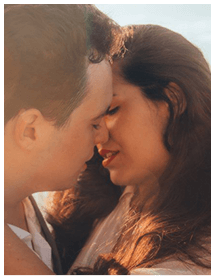 Simple Trick Tells You if a Girl Wants You to Kiss Her
Do girls leave you confused as to whether or not they like you?

Let's face it. Girl's don't make it easy for you. She will often send mixed signals leaving you unable to tell if she is being friendly or flirty. If you read her signals wrong you risk rejection and embarrassment. Or worse, you blow it with a girl who wanted to kiss you.
Here is a simple and innocent move that will instantly tell you if you're in the friend zone, or if she's waiting for you to kiss her.

We respect your email privacy
About Rick Mosely Rick is the editor for TSB magazine.