How Do We Feel About Katy Perry?
If you've been in the theaters over the past few months, you may have noticed a movie poster waiting in the lobby that, literally, looks like the worst movie of all time. It's for "Katy Perry: Part of Me," which is apparently a movie of some sort, and showcases her standing in front of a mirror singing to herself. Or something. We couldn't get too close to the poster itself because we were scared its shittiness was somehow going to rub off on us. But then. So. Katy Perry has a new movie out, which means Katy Perry is going to be all in our faces, doing interviews with celebrity shows and releasing new albums and what-not-, over the next short period of time. Which means it's time to re-examine her. It seems like some guys find her extremely attractive, while others really don't care either way. So look at the following gallery and let us know what you think in the comments.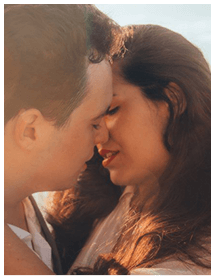 Simple Trick Tells You if a Girl Wants You to Kiss Her
Do girls leave you confused as to whether or not they like you?

Let's face it. Girl's don't make it easy for you. She will often send mixed signals leaving you unable to tell if she is being friendly or flirty. If you read her signals wrong you risk rejection and embarrassment. Or worse, you blow it with a girl who wanted to kiss you.
Here is a simple and innocent move that will instantly tell you if you're in the friend zone, or if she's waiting for you to kiss her.

We respect your email privacy
About Rick Mosely Rick is the editor for TSB magazine.