Gina Gershon Is Still Hot
We've always had a soft spot in our hearts for Gina Gershon. She's one of those actresses who has been around for so long at this point, and has been in so many things — be it on the big screen or small — that people kind of forget how goddamn attractive she is. Ever since her appearance back in the highly erotic Bound, we've been big fans of hers. And now, while her new movie Killer Joe isn't being sold as the highly-charged eroticism we like from her — if anything, it's being sold more of as "this is going to be too crazy for you to watch because of the violence" kind of movies — we're still interested because she's in it. So, then, to celebrate her hotness, here's some of her hotness.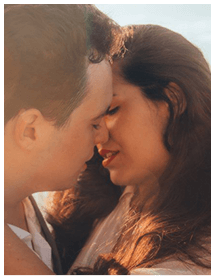 Simple Trick Tells You if a Girl Wants You to Kiss Her
Do girls leave you confused as to whether or not they like you?

Let's face it. Girl's don't make it easy for you. She will often send mixed signals leaving you unable to tell if she is being friendly or flirty. If you read her signals wrong you risk rejection and embarrassment. Or worse, you blow it with a girl who wanted to kiss you.
Here is a simple and innocent move that will instantly tell you if you're in the friend zone, or if she's waiting for you to kiss her.

We respect your email privacy
About Rick Mosely Rick is the editor for TSB magazine.