Kerry Washington Gives Us An Even Better Reason To See Tarantino's Latest
Let's be honest here: At this point, Quentin Tarantino could release a film of himself taking a dump and it would gross millions at the box office. That's just the level that QT is at this point in his career. And for good reason. Pulp Fiction and Jackie Brown are some of the greatest films ever made, and his latest batch of over-the-top exploitation fare have been definitely fun to view. So we are definitely going to check out his latest, Django Unchained, as soon as it comes out. But there's also another reason we're going to see it: It stars the lovely Kerry Washington. Which is why today we're providing you with this gallery of the Ms. Washington, who is one of the main actresses in Tarantino's latest. Enjoy!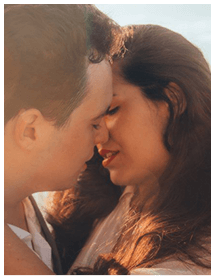 Simple Trick Tells You if a Girl Wants You to Kiss Her
Do girls leave you confused as to whether or not they like you?

Let's face it. Girl's don't make it easy for you. She will often send mixed signals leaving you unable to tell if she is being friendly or flirty. If you read her signals wrong you risk rejection and embarrassment. Or worse, you blow it with a girl who wanted to kiss you.
Here is a simple and innocent move that will instantly tell you if you're in the friend zone, or if she's waiting for you to kiss her.

We respect your email privacy
About Rick Mosely Rick is the editor for TSB magazine.