Oh, Here's a Bunch of Sexy Santas
So, yesterday you had a nice day off from work. You got to spend a lot of great time with your family, watch your nieces and nephews do all sorts of cute stuff, eat a lot of meat and cheese and drink a bunch of beer. And now you're back at work, and you have to get those reports out and are already counting the days until you get another few days off for New Years. So today, in order to welcome you all back into work, here's a bunch of photos of hot ladies dressed up as Santa Claus — or other gift-giving types — because, well, why the hell not?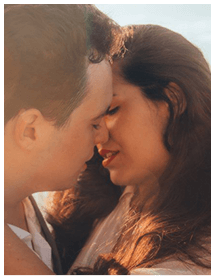 Simple Trick Tells You if a Girl Wants You to Kiss Her
Do girls leave you confused as to whether or not they like you?

Let's face it. Girl's don't make it easy for you. She will often send mixed signals leaving you unable to tell if she is being friendly or flirty. If you read her signals wrong you risk rejection and embarrassment. Or worse, you blow it with a girl who wanted to kiss you.
Here is a simple and innocent move that will instantly tell you if you're in the friend zone, or if she's waiting for you to kiss her.

We respect your email privacy
About Rick Mosely Rick is the editor for TSB magazine.