Mad Men's Back, So Here's Some More Christina Hendricks
We've gone on record multiple times over the years that we feel Christina Hendricks is, easily, the most attractive woman working today. And, honestly, it's not even that close. She has been number one in our book for the past five years or so, and there's no reason for her not to continue her dominance over every other actress working today. And with the new season of the epic Mad Men airing starting last night, well, it gives us and you a chance to relive exactly what makes her so special. And it's this.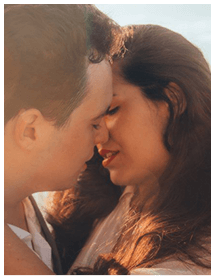 Simple Trick Tells You if a Girl Wants You to Kiss Her
Do girls leave you confused as to whether or not they like you?

Let's face it. Girl's don't make it easy for you. She will often send mixed signals leaving you unable to tell if she is being friendly or flirty. If you read her signals wrong you risk rejection and embarrassment. Or worse, you blow it with a girl who wanted to kiss you.
Here is a simple and innocent move that will instantly tell you if you're in the friend zone, or if she's waiting for you to kiss her.

We respect your email privacy
About Rick Mosely Rick is the editor for TSB magazine.