We Have Been Alerted To Hannah Simone, So Now You Will Be
Sometimes, there are certain ladies in various programs, movies, bands, whatever that we have not been alerted to for whatever reason. Sometimes it's because we haven't seen the various bits of media they are in, sometimes it's because we were on vacation and missed the week when they were popular, and sometimes there's really no excuse at all. Hannah Simone, the lovely Hannah Simone, is in the third camp. There's no reason we didn't know who she was before a friend alerted us to her presence, but now that we have heard of her — and, more importantly, seen her — we will pass along the savings to you! Enjoy.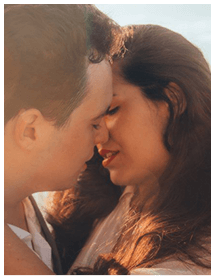 Simple Trick Tells You if a Girl Wants You to Kiss Her
Do girls leave you confused as to whether or not they like you?

Let's face it. Girl's don't make it easy for you. She will often send mixed signals leaving you unable to tell if she is being friendly or flirty. If you read her signals wrong you risk rejection and embarrassment. Or worse, you blow it with a girl who wanted to kiss you.
Here is a simple and innocent move that will instantly tell you if you're in the friend zone, or if she's waiting for you to kiss her.

We respect your email privacy
About Rick Mosely Rick is the editor for TSB magazine.