We'd Go to The World's End for Rosamund Pike
As we write this, we are mere hours away from seeing the highly-anticipated new movie The World's End — the third part of the loose trilogy from the same guys that brought us all Shaun of the Dead and Hot Fuzz — and we cannot wait. Not only is it getting great reviews, and come from a pedigree of filmmakers that simply has us full of anticipation. But the list of those actors who are in it is amazing. Not only Simon Pegg and Nick Frost, but Martin Freeman (the best part of most the original British The Office and Sherlock) and, the lovely, lovely, lovely Rosamund Pike. In honor of that last one, well, here's a gallery.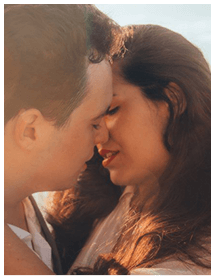 Simple Trick Tells You if a Girl Wants You to Kiss Her
Do girls leave you confused as to whether or not they like you?

Let's face it. Girl's don't make it easy for you. She will often send mixed signals leaving you unable to tell if she is being friendly or flirty. If you read her signals wrong you risk rejection and embarrassment. Or worse, you blow it with a girl who wanted to kiss you.
Here is a simple and innocent move that will instantly tell you if you're in the friend zone, or if she's waiting for you to kiss her.

We respect your email privacy
About Rick Mosely Rick is the editor for TSB magazine.