Evan Rachel Wood Makes Us Want To Travel Abroad
We don't know a whole lot about the new thriller-ey movie Charlie Countryman, other than it features Shia LeBeouf and he goes over to Romania where he falls in love with a gal. And wackiness and hijinks and surely people with guns ensue. But what makes us most eager to give this movie a shot is the fact that the woman he falls in love with is the lovely Evan Rachel Wood. And she is, well, someone to risk being shot and thrown into various trunks and whatever else they have in store for Mr. Shia over. Because, look at her.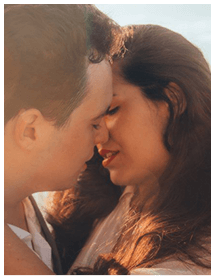 Simple Trick Tells You if a Girl Wants You to Kiss Her
Do girls leave you confused as to whether or not they like you?

Let's face it. Girl's don't make it easy for you. She will often send mixed signals leaving you unable to tell if she is being friendly or flirty. If you read her signals wrong you risk rejection and embarrassment. Or worse, you blow it with a girl who wanted to kiss you.
Here is a simple and innocent move that will instantly tell you if you're in the friend zone, or if she's waiting for you to kiss her.

We respect your email privacy
About Rick Mosely Rick is the editor for TSB magazine.