Elisabeth Moss Makes Us Mad, Man
It's so easy to overlook Elisabeth Moss whenever watching Mad Men. Yes, she's cute, but there's also January Jones and Christina Hendricks and now Jessica Pare hanging around the office, all of whom have a certain sex appeal that is rare on television. But, mostly what happens is that, because of the character she's playing, Elisabeth Moss is kind of dressed down to make her seem more professional. But, in reality, she's as attractive as any of them. Really, the proof is simply in shots of her you see around town, some of which we'll see right now!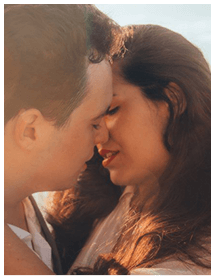 Simple Trick Tells You if a Girl Wants You to Kiss Her
Do girls leave you confused as to whether or not they like you?

Let's face it. Girl's don't make it easy for you. She will often send mixed signals leaving you unable to tell if she is being friendly or flirty. If you read her signals wrong you risk rejection and embarrassment. Or worse, you blow it with a girl who wanted to kiss you.
Here is a simple and innocent move that will instantly tell you if you're in the friend zone, or if she's waiting for you to kiss her.

We respect your email privacy
About Rick Mosely Rick is the editor for TSB magazine.