Megan Fox, Still As Hot As They Come
We have absolutely zero reason to put Megan Fox in this Monday Hot Lady spot. None at all. But, the other day, we were feeling kind of low on energy and trying to come up with a person to put in this post, and we just decided to enter in the old "hot girl" search into Google. And, guess what? A WHOLE bunch of Megan Fox photos come up. No joke. She's so hot that even the robots over at Google's HQ thinks she is. So, in honor of that bit of happenstance, here's a gallery of some of her hottest photos.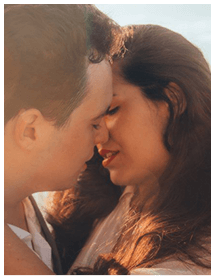 Simple Trick Tells You if a Girl Wants You to Kiss Her
Do girls leave you confused as to whether or not they like you?

Let's face it. Girl's don't make it easy for you. She will often send mixed signals leaving you unable to tell if she is being friendly or flirty. If you read her signals wrong you risk rejection and embarrassment. Or worse, you blow it with a girl who wanted to kiss you.
Here is a simple and innocent move that will instantly tell you if you're in the friend zone, or if she's waiting for you to kiss her.

We respect your email privacy
About Rick Mosely Rick is the editor for TSB magazine.