Halle Berry Is Still A Force to Be Reckoned With

We couldn't tell you a single thing about the new movie "Frankie & Alice." The poster makes it look as though it's going to delve a bit into difficult subject matter, which who knows what that means. But the poster also features prominently, right there front and center, the perfection of Halle Berry. And when we say perfection, we MEAN perfection. She's really as good as it has gotten over the past however many years she's been in the business. And my goodness, it doesn't look at though she's aged a day since way back when. So, in her honor, we dedicate today's gallery to her.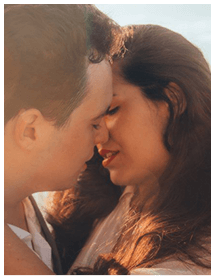 Simple Trick Tells You if a Girl Wants You to Kiss Her
Do girls leave you confused as to whether or not they like you?

Let's face it. Girl's don't make it easy for you. She will often send mixed signals leaving you unable to tell if she is being friendly or flirty. If you read her signals wrong you risk rejection and embarrassment. Or worse, you blow it with a girl who wanted to kiss you.
Here is a simple and innocent move that will instantly tell you if you're in the friend zone, or if she's waiting for you to kiss her.

We respect your email privacy
About Rick Mosely Rick is the editor for TSB magazine.