We'd Never Tell Rosamund Pike To Get Gone, Girl
Here's the thing about Gone Girl. We've never read it. We know that it is very popular, and that a whole lot of you (or, perhaps your mom or sister or whoever) have read it. But, to be honest, while we've seen it on every bookshelf and bookstore for the past however long, we have ZERO idea as to what it's about. Sure, we can probably look up the synopsis right now if we wanted to, but that would take work. Which is to say, that would take time away from our other joy, which is searching around for hot photos of the star of Gone Girl, Ms. Rosamund Pike. Why? Well, you'll see. Right… NOW!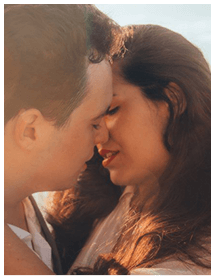 Simple Trick Tells You if a Girl Wants You to Kiss Her
Do girls leave you confused as to whether or not they like you?

Let's face it. Girl's don't make it easy for you. She will often send mixed signals leaving you unable to tell if she is being friendly or flirty. If you read her signals wrong you risk rejection and embarrassment. Or worse, you blow it with a girl who wanted to kiss you.
Here is a simple and innocent move that will instantly tell you if you're in the friend zone, or if she's waiting for you to kiss her.

We respect your email privacy
About Rick Mosely Rick is the editor for TSB magazine.