We'd Watch Gugu Mbatha-Raw No Matter the Period
That little pun above? That's because she's in the period drama Gugu Mbatha-Raw "Belle," which surely will be fine and at the end of the day maybe be up for an award or two. It looks kind of like one THOSE of those movies. Which are fine, and worthwhile, and definitely have a place in the world of cinema. But also, see, this Gugu Mbatha-Raw… well, we'd never heard of her before. And frankly, that is something that needs to change, because she is certainly one of the most attractive actresses out there. Who knew! Thanks, high-fallutin art cinema! To show you what we all mean, here's a quick gallery of her loveliness.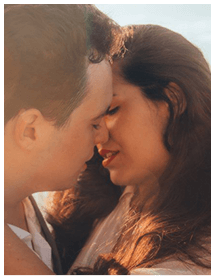 Simple Trick Tells You if a Girl Wants You to Kiss Her
Do girls leave you confused as to whether or not they like you?

Let's face it. Girl's don't make it easy for you. She will often send mixed signals leaving you unable to tell if she is being friendly or flirty. If you read her signals wrong you risk rejection and embarrassment. Or worse, you blow it with a girl who wanted to kiss you.
Here is a simple and innocent move that will instantly tell you if you're in the friend zone, or if she's waiting for you to kiss her.

We respect your email privacy
About Rick Mosely Rick is the editor for TSB magazine.