Emily Blunt Brings Us To The Edge of Tomorrow
Tom Cruise, at this point in his career, has settled into this series of roles where he's basically putting together pretty decent movies — nothing great, mind you — that always have him saving the world or the girl or something. Big budget action adventure kind of flicks. And they're fine, and worth seeing on a plane or whatever, but that's just about it. Except when the ladies that he is trying to save are some of the hotter ones around. Which is why Edge of Tomorrow is a little interesting at the very least because the gal he's saving this time around is Emily Blunt. And she is, well, she is amazing.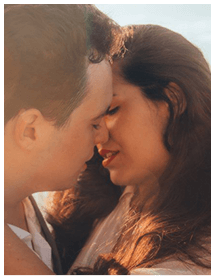 Simple Trick Tells You if a Girl Wants You to Kiss Her
Do girls leave you confused as to whether or not they like you?

Let's face it. Girl's don't make it easy for you. She will often send mixed signals leaving you unable to tell if she is being friendly or flirty. If you read her signals wrong you risk rejection and embarrassment. Or worse, you blow it with a girl who wanted to kiss you.
Here is a simple and innocent move that will instantly tell you if you're in the friend zone, or if she's waiting for you to kiss her.

We respect your email privacy
About Rick Mosely Rick is the editor for TSB magazine.