Meagan Good Makes Us Think Like A Man Again
We're going to be honest here. When we first heard that there was a movie out there in theaters called "Think Like A Man Too," well, we didn't entirely know what to think. Was this some movie urging us to think like a man again, because, what, we weren't thinking too much like one before? Or that instead of just thinking like a woman, we were supposed to think like a man as well? No. It turns out, this is a sequel. (Kind of like a Look Who's Talking Too? kind of deal in the naming department.) Of a very popular movie, turns out. Which is fine and good, and we'll still probably not see it, but NOT because of the lovely Meagan Good, who is in this and quite attractive. As you are just about to see.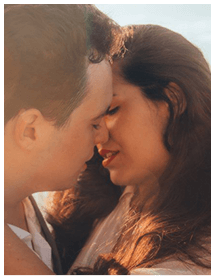 Simple Trick Tells You if a Girl Wants You to Kiss Her
Do girls leave you confused as to whether or not they like you?

Let's face it. Girl's don't make it easy for you. She will often send mixed signals leaving you unable to tell if she is being friendly or flirty. If you read her signals wrong you risk rejection and embarrassment. Or worse, you blow it with a girl who wanted to kiss you.
Here is a simple and innocent move that will instantly tell you if you're in the friend zone, or if she's waiting for you to kiss her.

We respect your email privacy
About Rick Mosely Rick is the editor for TSB magazine.