Jaime King Is Another Dame To Die For
And our mini-series about the ladies of the new Sin City continues, this time with the new up and coming actress Jaime King, who you really need only a pair of eyes to understand why she is so up and coming. Honestly, when Jaime King is the third person you can go to when you're talking about the hottest women in the movie — and we still have another few to go — when that's when you know that Robert Rodriguez has a talent for picking this kind of stuff. So, enjoy.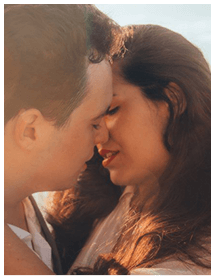 Simple Trick Tells You if a Girl Wants You to Kiss Her
Do girls leave you confused as to whether or not they like you?

Let's face it. Girl's don't make it easy for you. She will often send mixed signals leaving you unable to tell if she is being friendly or flirty. If you read her signals wrong you risk rejection and embarrassment. Or worse, you blow it with a girl who wanted to kiss you.
Here is a simple and innocent move that will instantly tell you if you're in the friend zone, or if she's waiting for you to kiss her.

We respect your email privacy
About Rick Mosely Rick is the editor for TSB magazine.