You probably don't give much thought to the mineral magnesium in your day to life, and for the most part you don't need to. You should make sure that your list of favorite foods affords you enough of the stuff however. Magnesium is responsible for handling over 300 different crucial processes in the body, which include controlling the blood sugar, building muscle, regulating blood pressure, and controlling nerve and muscle function. It can also help you sleep better at night, and it reduces inflammation which can literally extend you life. All that good stuff from a naturally occurring mineral, and yet according to the USDA 56% of Americans are not getting enough. Here are some good sources.
Almonds

Almonds should be on your list of snack foods anyway since they are a great source of concentrated protein and healthy fat. The also happen to be high in magnesium. If snacking on them plain doesn't get you going, try throwing some sliced ones in a salad, spreading some almond butter on your toast, or grind them up and use them instead of breading on your chicken.
Swiss Chard
This leafy green is not exactly delicious on its own but cook it up with some olive oil, salt, and garlic, and you've got yourself a tasty side dish for your protein at dinner. The same goes for fellow leafy green spinach.
Salmon

Magnesium can found in some fish too, including salmon and the oily fish mackerel. Salmon is of course, a great source of protein and omega-3 fatty acids. Try to work it into your diet at least once a week. If you tire of filets, why not go for a hearty salmon burger to mix things up? Top it with some of that spinach while you are at it.
Amaranth

Who knows why this grain hasn't received more attention yet. It contains more fiber and protein than brown rice, and is actually considered a complete protein. It is also full of vitamins and minerals including magnesium of course, and it can be eaten a few different ways. Amaranth can be cooked the way you would normally cook your rice, or it can be popped like popcorn. Who said eating healthy isn't fun.
Pumpkin Seeds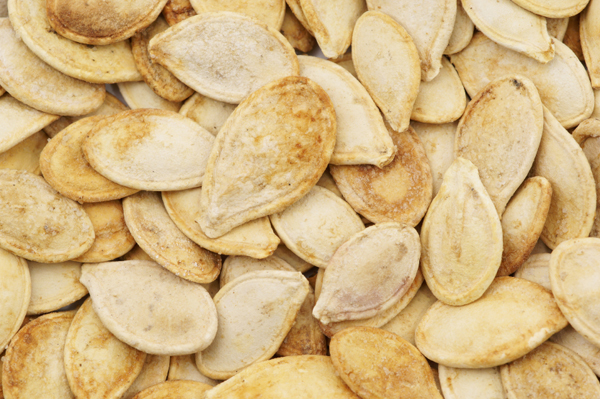 Many people bake up some pumpkin seeds for a tasty snack after pumpkin craving, but eating them should not be limited to the month of October. Pumpkin seeds have 156 mg of magnesium per ounce, and they are a very tasty and filling snack.
Brazil Nuts

Brazil nuts are not the most popular nut out there, but those big guys are full of magnesium and they actually have more concentrated selenium in them than other food does. Selenium is another crucial mineral that helps to regulate the thyroid hormones and keep the immune system healthy.