Print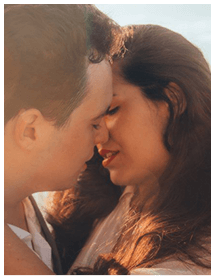 Simple Trick Tells You if a Girl Wants You to Kiss Her
Do girls leave you confused as to whether or not they like you?

Let's face it. Girl's don't make it easy for you. She will often send mixed signals leaving you unable to tell if she is being friendly or flirty. If you read her signals wrong you risk rejection and embarrassment. Or worse, you blow it with a girl who wanted to kiss you.
Here is a simple and innocent move that will instantly tell you if you're in the friend zone, or if she's waiting for you to kiss her.

We respect your email privacy
About Chris Leddy Chris is based out of New York City and has a passion for helping people overcome mental obstacles and improve their lifestyle. Most of his writing is primarily focus on improving mental health among men by helping them overcome anxieties, strengthen their mental state + beliefs, and improve their lifestyle. After ditching the rat race to travel the world alone, he returned, inspired to keep writing and working with people full time. He recently launched a selfimprovement website carefreerealities.com.