Must-Read: Your Ideal Grocery List
If you set up some kind of web camera to spy on us over here at TSB HQ, this is what you'd see on a regular basis, right around 1pm and 6pm every day, after getting to that point when our stomachs send the painful reminder to us that we've gone since (x) hours without ingesting any food: Us scrambling around the kitchen, opening and closing the fridge a half-dozen times, looking in the freezer, seeing what's lying around, and either settling for that or walking over to the nearest taco stand and getting an instant food-IV of carnitas, stat. What you won't see us is spending a lot of time planning a grocery shopping spree because it saves money and is probably healthier for us. We just don't know how to do it.
Enter: Men's Health.
Over there this week they have an amazing grocery list that you can get at your local grocery store for about $50. Which is all well and good. But I can head over to the nearest Ralph's or Von's and easily drop a cool $50-$100 without even trying. But then the food just ends up rotting in the fridge and eventually getting thrown away. No, what the Men's Health folks do is that, after telling you what to buy, they actually tell you what to do with the groceries.
Here's the list:
Produce
1 pint cherry or grape tomatoes
2 bell peppers (1 red, 1 green)
1 large Spanish onion
1 jalapeno pepper
1 package arugula
1 bunch broccoli rabe
1 bunch cilantro
1 head garlic

Meat
1 whole chicken (3–3 1/2 lb)
1 package (1 lb) hot Italian sausage
1 package (1 lb) smoked turkey sausage
1 lb skirt steak

Grocery
2 whole-wheat sub or hero rolls (8-inch)
1 can (14.5 oz) stewed tomatoes
1 can (28 oz) whole San Marzano tomatoes in juice
1 can (15.5 oz) black beans
1 small package (10 oz) corn tortillas
1 lb fettuccine

Dairy
1 small container (8 oz) sour cream

Pantry items
(always keep these in stock)
Kosher salt and black peppercorns
Extra-virgin olive oil
A block of Parmesan cheese
Dijon mustard
Balsamic vinegar
Hot sauce
Simple enough! And since we're not going to copy-and-paste the entire article, head over to the above link to check out what kinds of meals these items will produce. An entire week's worth of healthy and delicious meals, all for around $50, and all simply described for you. Get to work, boys!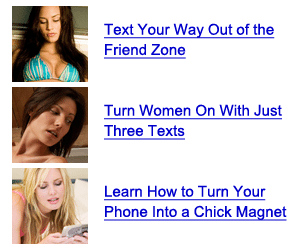 Simple Trick Tells You if a Girl Wants You to Kiss Her
Do girls leave you confused as to whether or not they like you?
Let's face it. Girl's don't make it easy for you. She will often send mixed signals leaving you unable to tell if she is being friendly or flirty. If you read her signals wrong you risk rejection and embarrassment. Or worse, you blow it with a girl who wanted to kiss you.
Here is a simple and innocent move that will instantly tell you if you're in the friend zone, or if she's waiting for you to kiss her.