Get Her in the Mood
Lets face it, as guys, we pretty much want sex all day everyday. If you can honestly think of something youd rather be doing, well then, youre probably the only one. Good for you. Unfortunately, for a variety of reasons, women dont share the same attitude. Armed with the right knowledge, though, we can persuade women to jump in the sac with us. Here are a few things you can do the next time your in the mood, and shes not.
Give her a massage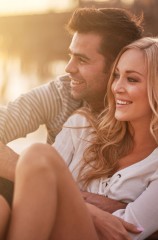 This is one of the all-time best ways to get her juices flowing. But youve got to do it right. If you half-ass it, youll end up just wasting your time. Heres how its done First, set the mood with candles and light music. Dont worry about getting sounds of the forest or anything like that. But youll want generally soothing, calming music. Or at least something she enjoys. A little OAR can be all you need. Set up the candles so that the whole room illuminates to an orange glow. You may have to settle on your bed in place of a massage table, but itll do just fine. Second, get some massage oil. Simply having this will make it appear like you know what youre doing. Youll need this stuff because it not only lets your hands glide freely, it also warms her muscles. The result is complete relaxation. Third, start with very slow, broad strokes that cover her entire back and legs (she should be naked with just a towel over her butt). But dont neglect her arms and legs. Some women go crazy when you massage their arms all the way to the hands. As you work up momentum, increase the pressure you apply. You really want to focus on working the entire muscle, using your entire hand. Finally, as you end the massage, whisper something in her ear and buckle up! Even if you dont have sex right then and there, you can be assured shell be in a giving mood the next time you go at it. Need to learn how to give an erotic massage? Read this post or this post.
Cook her dinner
This one gets her excited because it shows you can do something other than shoot hoops. But dont try some fancy dish you probably cant pull off. If the food sucks, youre basically back where you started. Try easy recipes like spaghetti or ravioli. Then, throw in some spices to class it up. Just like a massage, you should set the mood before dinner. And just like a massage, break out the candles again. What is it about a tiny flame that women like so much? If and when she asks to help, tell her to sit down and relax. Then go ahead and give her some bread, wine, or at least beer to nosh before the main course is ready. Maybe let her lick a spoon to test the sauce. And dont focus completely on the food, you have to keep the conversation going, this shows her you can do two things at once. When the food is up, serve her first and act like you care if she likes it. Youll know if you did well within the first few bites as women have an amazing ability to eat in a sexy way. If sheâs smiling and enjoying the food, youre in. Start to feed her with your fork and rejoice in the fact that youre much closer to sex than you were an hour ago.
Give her a gift
Ive yet to meet a girl who didnt enjoy a gift. Depending on the size of the gift, it can be an instant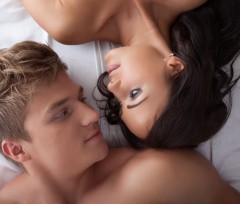 mood-changer. And depending on the tone of the gift, it could be a nudge in the sexual direction. Obvious sex-inducing gifts include handcuffs and KY. But for a classier approach, consider getting her some expensive lingerie. These things are incredibly skimpy, so the gift will tell her you appreciate every part of her body and she has nothing to hide. Dont get her some skanky gift like crotchless panties. Im talking about Victorias Secret stuff here. Youll have to shell out the big bucks but itll be worth it. It might not be that same night, but at some point, shell almost feel obligated to wear the thing. The best part about this gift is that its more of a gift to you than her. You get to pick out the sexiest thing in the store and get to see your girlfriend in it! Enjoy.
Take a shower
Encourage her to hop in the shower with you before bed. Ideally, this will lead straight to shower sex. Now, the positions here can be awkward, but they can also be amazing. The standing doggy-style is always money. Another good one is to sit on the side and have her sit in your lap with her back to you. If the shower head reaches, grab that thing and use it on her. She'll love it and you'll look like an expert. Even if you don't have sex in the shower, you still have a great chance when you get out. Encourage her to leave her towel on as you both watch TV and relax. There's no need to rush into clothes, the towels provide easy access for both of you. Plus, she'll appreciate your cleanliness and will be likely to explore parts she may otherwise shy away from. At this point, go in for a long makeout session to get her warmed up.
Under no circumstances, should guys force anything on their girls. However, there's nothing wrong with hinting and swaying the odds. A word of caution: Don't immediately expect sex after doing one or more of these things. And don't act upset if she still doesn't want to do it. But rest assured, these suggestions are guaranteed to help your chances.