A Date by Date Guide to Appropriate Outfits
Below we go through appropriate outfits for the various types of dates you might find yourself in. While your own personal style will always play a part in how you dress for these dates, this makes for a good guideline if you're absolutely clueless as to what to wear.
Fancy Dinner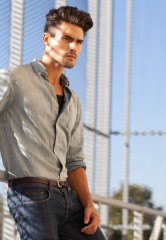 The fancy dinner date will likely be one of if not the first date you'll go on with a perspective girlfriend. You can't blow this first date impression. Besides picking up the tab, you've got to impress with your clothing. Try these…
Shirt – Depending on how ritzy the restaurant is, you could range from a button up with a sweater to a tie. If she doesn't compliment you on your attire at some point during the date, you didn't dress nice enough.
Pants – Think Brooks Brothers, Dockers, and Calvin Klein. Your pants should be the nicest around, second only to suit pants. Make sure they don't drag under your feet – nothing looks less professional.
Shoes – Gotta break out the loafers. Black leathery dress shoes are always safe. Don't wear black shoes where brown looks better. It depends on your pant and shirt color.
Other – You may want to add your fanciest watch to this outfit. Take off any rubber bands bracelets or cheesy necklaces you wear. Keep your belt thick and solid.
Movie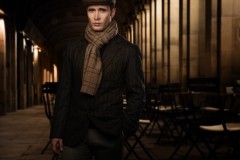 Taking a date to the movies is as old as movies themselves, but it still works. It's an informal way to enjoy spending time together, without actually talking much. Here's how to dress the part…
Shirt – Keep in mind that it's always freezing in the theater. It's nice to have a sweatshirt to give to her if she gets cold. I don't like to wear too nice of a coat to the movies, because it will just get slung over the soda stained seat. Don't wear a turtleneck or sweater vest to the theater, keep it nice and casual. Button ups, sweatshirt, and shirt sleeve over long sleeve works well.
Pants – Jeans are fine. Anything fancier and you look like you're trying too hard.
Shoes – Pumas or other sort of fancy athletic shoes are perfect. Loafers aren't overdoing it, but Nike high tops are underdoing it.
Other – A beanie or hat works when the weather permits. Just don't wear the one that covers your eyes – you can't see the movie and she thinks you look dumb.
Lunch
Casual lunch dates will become more frequent as you continue to see your girl. It might even become a daily thing. Whatever you wear to these dates is what she assumes you wear everyday. This is where you impress with your daily fashion sense.
Shirt – Nothing fancy here. College team shirts are good. Comfort is important, as you'll probably remain in these clothes before and after the date.
Pants – Jeans here. It's not vital that they fit perfectly. She realizes you're not trying to impress (even though you are).
Shoes – Flip flops in midsummer. If you're wearing shorts, your socks should barely be visible, if at all.
Other – Backwards hat is usually a plus if you're still young enough to pull it off.
Bar
Ahh the bar date – risky business. The presence of alcohol changes everything, as does the presence of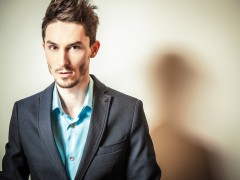 hundreds of other single people. You have to dress to impress not only "her", but all the other girls as well. You have to come across as desirable to every girl in the bar.
Shirt – Button ups are probably the most popular. Make sure it's not too long or wide. You want to showcase your best assets. If you've got some muscle, tight clothes that highlight that are fine, as long as it's not Under Armor or Hollister tight.
Pants – Got to be jeans, nice jeans, no holes or paint splashes.
Shoes – Dress shoes are a safe bet here. Nice Pumas or Nikes could also work, depending on your shirt. Never flip flops.
Other – Watches optional. Leave the hats at home, let the girls see your face and hair; apparently it's important to them.
Sporting Event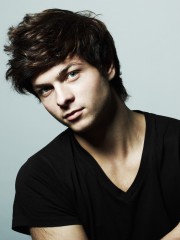 If you're lucky enough to get a girl who likes sports, you'll run across a few sporting event dates. It's important to make a good impression at these games. You want to portray your manhood and team pride, but not at the expense of looking like a jackass. Comfort is the main issue.
Shirt – A jersey is perfectly acceptable. Depending on the sport, you may need to dress warm. Never wear a coat that has a team's name or logo on it, we're not in middle school anymore. Even if it's a NASCAR race, your shirt must have sleeves. White and black are good colors because you're probably going to sweat.
Pants – This is one of the instances where shorts are acceptable. Not mesh shorts, but normal, nice, kahki shorts. Steer clear of jean shorts and any pair that has strings hanging down to the ground.
Shoes – It is completely optional what shoes you wear to a sporting event. You can go with Adidas indoor soccer shoes or flip flops. This is super casual.
Other – Hats are always useful, as are shades.