The Rules vs. The Game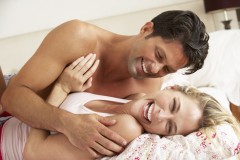 If men want to get a beautiful woman… they either go mainstream and memorize pick-up lines or they pick up Neil Strauss' The Game. As a professional dating coach, I've invested years of research and experience in aiding men to positively augment their lives and attract high quality women.
But what about the ladies? What options do modern, successful, independent women have if they want to bag a high-quality male? More importantly, why should you, a man studying the Venusian arts, care?
Well, here's the best-selling book that many women are using as the Bible for bagging a man and getting the ring. The Rules, first published in 1995, is the female equivalent to The Game. As a modern, independent woman, my initial reaction to the book was a mixture of horror and laughter. Then I read the book.
I agree with it.
I have naturally practiced The Rules and didn't even realize it.
Most women only know of the seduction community from VH1's The Pickup Artist, Ross Jeffries' episode of Dr. Phil, and who can forget Paul Janka's sandbagging appearance on Today. Gentlemen, women are bringing out the big guns to defend themselves against this mainstream perception of the seduction community.
You, a student of social dynamics, should know these rules. And you should gather your resources if you want to break them…
Here are a few examples of The Rules:
1.) Be a creature unlike any other!
2.) Don't talk to a man first (and don't ask him to dance)
3.) Don't stare at men or talk too much
4.) Don't meet him halfway or go Dutch on a date
5.) Don't call him and rarely return his calls
6.) Always end phone calls first
7.) Don't accept a Saturday night date after Wednesday
8.) Always end the date first
9.) Stop dating him if he doesn't give you a romantic gift for your birthday or Valentine's Day
10.) Don't see him more than once or twice a week
11.) No more than casual kissing on the first date
12.) Don't rush into sex
13.) Don't tell him what to do
14.) Let him take the lead
15.) Don't expect a man to change or try to change him
16.) Don't open up too fast
17.) Be honest but mysterious
18.) Don't live with a man or leave things in his apartment
19.) Slowly involve him in your family
20.) Take care of yourself
21.) Don't discuss The Rules with your therapist
About Zip woman A lifestyle coach, wingwoman, writer, pick-up-artist, trainer, moderator, theorist, researcher, etiquette expert, party planner…Zip is as close as it gets to a modern Renaissance Woman. She is fluent in Latin, a professional actor, world traveler, and debutant. Fortunate enough to be the recipient of an incredible education, Zip has won countless awards and has been featured in several magazine articles.