Check Mate!: Summer Prints for the Guy Next Door
Get close enough to the king in a game of chess, and you are set to utter two of the most triumphant words known to the English language: "check mate." This season check patterns are making a big comeback in menswear, yet it's of the utmost importance to avoid looking like an actual checker board. Try some of these easy-to-integrate pieces to look polished, not like a picnic blanket.
Kenneth Cole New York Mini Check Shirt
As this subtly patterned shirt shows, sometimes bigger isn't always better.
Scotch & Soda Men's Short Sleeve Check Shirt
As pirates have known for years, a few patches go a long way towards giving a look some edge.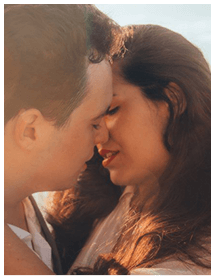 Simple Trick Tells You if a Girl Wants You to Kiss Her
Do girls leave you confused as to whether or not they like you?

Let's face it. Girl's don't make it easy for you. She will often send mixed signals leaving you unable to tell if she is being friendly or flirty. If you read her signals wrong you risk rejection and embarrassment. Or worse, you blow it with a girl who wanted to kiss you.
Here is a simple and innocent move that will instantly tell you if you're in the friend zone, or if she's waiting for you to kiss her.

We respect your email privacy
About TracyOneill Tracy is a freelance writer based out of Brooklyn obsessed with nutritional supplements, mediocre music, audacious (to put it politely) apparel, literary giants, and perfecting the fine art of the Sunday Bloody Mary.