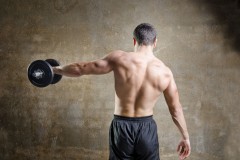 I know that weeks have passed since the official first day of Spring has gone by on the calendar, but in the northeast there were still some days and nights that were downright chilly.  Normally once the first of May has hit, the weather really starts to break and much of the country starts to get streaks of warm and beautiful days.  Some people like to use that as an excuse to skip the dark and dingy gym in favor of something with a little more natural light and though I'm never one to miss a workout, I do advocate getting outside to play.
The warm weather gives everyone a golden opportunity to change things up a little, which in turn may just give us the valuable stimulation we need to hurdle some of the challenges we've been facing in getting the results that we've been working so hard for in the gym.  There are things that you can do and experience in the great outdoors that you just can't get inside the gym – the sunlight and fresh air alone can be incredible motivators to get up and go.
Some less creative individuals may be trapped in the thinking that the only workouts that you can get outside involve running or cycling, but if you open your mind (and come to the realization that you may just get a few unusual stares while performing your outdoor workout) you can get just as intense a resistance training workout outdoors as you can inside an incredible equipped commercial gym.
There's absolutely nothing wrong with taking a stroll with your dog, going for a run or taking your bike for a cruise around the park, in fact you can easily burn just as many calories running on the asphalt or biking around the park as you can running on a treadmill or spending some time on the spinner, but what do you do if strength training is your thing?
You probably won't find a fully loaded dumbbell rack or an endless line of machines at your local park, but what you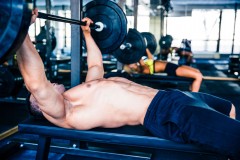 most likely will find is a playground which can give you just as good of a strength training workout.  On the playground equipment it's easy to find someplace for pull ups, chin ups, dips, hanging leg raises and any variety of climbing exercises that will work your arms and back.  Impromptu playground workouts are a great way to blast your entire upper body and you'll likely be able to get through one of these wicked workouts quicker than your traditional gym workout because you won't have to wait for anyone else to finish with a machine that you need to use.
No playgrounds in sight – no problem, just take some of your equipment outside.  At the end of last week we had a beautiful, sunny seventy degree day and instead of performing my normal Thursday night workout in my basement gym I took my barbell and some plates out into my backyard.  I did power cleans and standing overhead presses (which I can't normally do in my gym because of the height of the ceiling), I did squats and farmers walks (again something I normally can't do in my gym because of space constraints) and basically had a hell of a good time out in the elements.  Sure carrying the barbells and plates up and down the steps was a bit of a pain in the ass, but I just treated it as my warm up and cool down.
You don't have to get crazy and carry your entire home gym outside; you can get a great workout with just a pair of dumbbells or kettlebells.  Get out in the yard and do things you normally wouldn't be doing – you can mix up your dumbbell workout with some plyometrics or put two sets of dumbbells fifty yards apart and superset one of your favorite exercises with sprints, the possibilities are literally endless if you just think outside of the box.
You may get a few funny looks or stares but who cares, by adding in one of these outside sessions just once a week you should be able to explode through training plateaus that you've hit and you'll realize again what you enjoyed about getting is shape in the first place.  Getting some sun and having some fun should give you the motivation to keep you working hard through the summer heat and have you achieving your health and fitness goals by the time beach season hits.