World's Top Pickup Artists Discuss the Learning Curve
This is the first video from the long awaited Super Conference footage.  If you read the Super Conference Weekend Report
from last October you know what a blast we had out in Los Angeles hanging out with these guys- and finally getting to
see many of them in action.
One of the more enjoyable aspects of the weekend (besides partying at the Playboy Mansion) was sitting down with many
of the top dating coaches and instructors and picking their brains about some of the questions we are asked most about.
In this video we rounded up nine of the top guys to find out exactly how to get through that brutal learning period where
everything just feels unnatural and awkward.
Here are a list of the guys who share their thoughts:
Soul
Sheriff
Mr. M
Sinn
Brad P.
Prestige
Cajun
Tenmagnet
Fader
If you're just getting started taking control of your dating life- or have it a plateau- this video will give you some great tips
to get through the rough spots…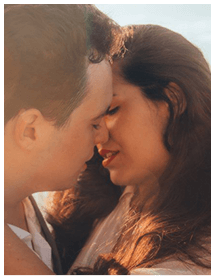 Simple Trick Tells You if a Girl Wants You to Kiss Her
Do girls leave you confused as to whether or not they like you?

Let's face it. Girl's don't make it easy for you. She will often send mixed signals leaving you unable to tell if she is being friendly or flirty. If you read her signals wrong you risk rejection and embarrassment. Or worse, you blow it with a girl who wanted to kiss you.
Here is a simple and innocent move that will instantly tell you if you're in the friend zone, or if she's waiting for you to kiss her.

We respect your email privacy
About MikeStoute Michael Stoute here, and at your service. I am a writer/editor/lover and a fighter. My words are weapons of wisdom so watch out, you may learn something...or better yet, maybe you can teach me something! Have a question? Please try to leave it in the comments, it will get a faster response than an email. Otherwise, Email Me