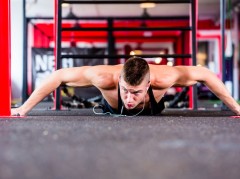 Whether you're trying to build the ultimate gym that will still leave you room to live in your hovel of an apartment, or your a guy who has to travel a lot and you want to be able to transport your "super gym" wherever you have to go – these are (in my humble opinion of course) the five best options to have for your full service, but completely portable fitness center.
#1 – Your own Body
Now I don't normally condone putting bodies in your trunk, but unless you're six foot four and 275 pounds and drive a Mazda Miata, your body will fit in your trunk and thus – it fits into this list perfectly.  There is really no area on your body that you can't work without the use of your own resistance – the exercises that you can perform are pretty much limitless, and what ever you do with your own body is absolutely free.
Think about it – you can do:  push-ups (which have dozens of variations), squats, lunges, sit ups, jumping jacks, bridges, mountain climbers, squat thrusts – you can go walking, go running, etc., etc., etc.  In short, if you only had one piece of "equipment" that you were able to work out with from here to eternity – your own body could very easily be the best choice.
#2 – A Portable Pull-Up Bar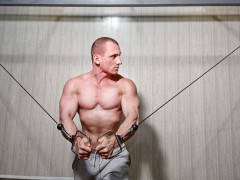 This one goes right along the same lines as your own body, as you'll mainly be using your bodyweight as the form of resistance here.  Sometimes you'll be able to find a place where you could conceivably do pull-ups without a pull-up bar, like a play ground, etc., but that isn't always the case.  If you're confined to a classroom or conference room all day and to your hotel room all night, you may not be able to find a suitable bar to perform pull-ups on, but you'll most certainly be able to find a doorway that you can hook up a portable pull-up bar in.
Varying your grip on pull-ups allows you to work your entire back; your arms, your grip and the bar will also let you do many hanging movements that will work your entire core.  As an added bonus, many portable pull-up bars double as a push up/dip handle when placed on the floor, which will give you the opportunity for even more variety in your bodyweight workout.
#3 – A Jump rope
You can darn near fit a jump rope in your pocket, so this piece of equipment should get an extra bonus for "super portability."  There are few things out there that will attack your conditioning the way a spirited bout of jumping rope will.  Running and cycling can provide great conditioning workouts, but both require the use of the great outdoors which mother nature can sometimes make pretty difficult.  Regardless of the weather outside, as long as you've got a little bit of space you can get a hell of a conditioning/cardio workout in minimal time with a jump rope.
#4 – Kettlebell(s) *
Though a little bit fancier and more expensive than the three previous entries on the list, kettlebells are certainly worth the investment if you have the money.  A single or a pair of bells will easily fit into the trunk of your car and the can offer you free weight options that you couldn't perform with anything else on the list.  Kettlebells are a great way to build muscle, produce explosive strength and burn away unsightly fat (without having to do additional cardio).
You can perform one or two handed swings, snatches, cleans, a wide variety of pressing movements, Turkish Get-Ups and rows in a manner that you've never experienced before with traditional weights.  Kettlebells are incredibly versatile and when using them you can be sure that you won't ever have a boring workout – painful maybe, but never boring.
Most men start out at around a 16k kettlebell; if you're exceedingly strong you can start out with a 20k.
* Note to reader – if kettlebells are out of your price range, traditional dumbbells can do the trick here.  You'll be able to perform most of the same exercises with a dumbbell that you would with a kettlebell, you just may not yield the some of the benefits that you would from an intense kettlebell workout.
#5 – A Medicine Ball
This may sound a bit old school for people who are used to traditional gym equipment, but a medicine ball can give even a modern day warrior one hell of a workout.  The main difference between a medicine ball and other types of resistance is that you can throw it without doing any damage to it and, if you're reasonably careful, without doing any damage to yourself or anything else.  Throws against a brick wall or overhead slams onto the ground are great additions to a workout that will build explosive strength, burn fat and do wonders for your conditioning.
There you have it – a complete, kick-ass, fully function and reasonably priced "super gym" that could easily be stowed away into the trunk of your car and taken anywhere you need to go – with this type of equipment, space is no longer an issue or an excuse.