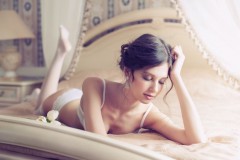 Each summer, we get all hyped up for a bunch of big blockbuster releases. Terminator! Lord of the Rings! Star Wars! Yet it is only every so often a movie comes along that makes you want to get up and dance more than sit around stuffing your face with greasy popcorn, which is really all I could do to keep myself entertained during the last two hours of the Lord of the Rings.
A good movie soundtrack will complement or even enhance the action in the film. A great one will be worth listening to on its own. Of course to be fair, band flicks like A Hard Day's Night, Purple Rain, and The Wall do not count. So if you aren't exactly peeing your pants with anticipation over the new Harry Potter movie, log onto iTunes for these blockbuster soundtracks.
Manhattan
Maybe Annie Hall trumps Manhattan when it comes to the best Woody Allen film, but Manhattan, which features music composed by George Gershwin, trumps Annie Hall in the soundtrack category.
The Royal Tenenbaums
With punk and classic rock gems like "Judy is a Punk" and "Hey Judge" with a bit of Elliot Smith to boot, this soundtrack can't be beat.
Hedwig and the Angry Inch
Normally, I wouldn't be very interested in watching a musical and really wouldn't be interested in listening to its soundtrack. Then again, few musicals chronicle the rise of a transvestite singer over the backdrop of the fall of the Berlin Wall. Besides, "Midnight Radio" is perhaps the best musical ballad of all time.
Garden State
When Zach Braff was shopping Garden State around, more liked the soundtrack than the script. Loaded with songs by The Shins, the film certainly had more indie music cred than indie film cred, considering its leads were Braff and Natalie Portman.
Trouble Man
Two words: Marvin Gaye. Yes, this soundtrack is What's Going On.
Pulp Fiction
Much like Quentin Tarantino's filmmaking, the Pulp Fiction soundtrack borrows from many genres. From west coastin' "Surf Rider" to the sexy slow "If Love is a Red Dress," this music is almost as good as the film masterpiece.
Easy Rider
A cult classic with a soundtrack equally epic, Easy Rider is a gorgeous cruise through jams by The Byrds, Hendrix, and Steppenwolf.
8 Mile
Those freestyle raps (which weren't really freestyle) were infinitely better than some of the acting in the biopic.