The 10 Best iPhone Apps
There's a world of iPhone apps out there vaster even than the American attention span for reality TV. Everywhere you turn there's a new game, a new tool, a new doo-hickey to fill up your finite quantity of GBs. So now is the time to choose wisely. But since intelligent decisions aren't as much a part of human nature as the propensity to download as many iPhone apps as possible, we've gotten choosy for you.
Pandora
My favorite music website is now available on the iPhone to help discover more music akin to my already acknowledged favorites. Thank you, Pandora, for introducing me to Handsome Furs.
Shazam
Do not spend hours trying to figure out the song name or artist after hearing that one song on the radio, at the club, or in the grocery store, as I did with "No Games" by Serani for six months. Just Shazam it.
WritingPad
Like a writing pad but less crinkle-able.
Pageonce Personal Assistant
If you've always wanted an assistant but could never afford one, this app is almost as good, though perhaps not as personable, as a recent college grad desperate for work in a troubled economy.
City Transit
This navigator will keep you from ever having to do the most stereotypically emasculating thing in the entire world: asking for directions.
Air Hockey
All the fun of the real deal without the threat of getting your fingers smashed by flying pucks.
Ocarina
If it weirds you out that this app makes touching on your iPhone like playing the wood flute, you're not alone. Ocarina is like the Kindle of musical instruments but cooler.
One Hundred Pushups
Like a less annoying (not to mention expensive) motivational coach to help you reach your fitness goals.
Yelp
Find the best bars, restaurants, and clubs according to the computered masses.
Tee-Shot
Golf cards look like relics of the pre-Tiger era with this bad boy.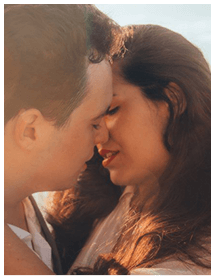 Simple Trick Tells You if a Girl Wants You to Kiss Her
Do girls leave you confused as to whether or not they like you?

Let's face it. Girl's don't make it easy for you. She will often send mixed signals leaving you unable to tell if she is being friendly or flirty. If you read her signals wrong you risk rejection and embarrassment. Or worse, you blow it with a girl who wanted to kiss you.
Here is a simple and innocent move that will instantly tell you if you're in the friend zone, or if she's waiting for you to kiss her.

We respect your email privacy
About TracyOneill Tracy is a freelance writer based out of Brooklyn obsessed with nutritional supplements, mediocre music, audacious (to put it politely) apparel, literary giants, and perfecting the fine art of the Sunday Bloody Mary.