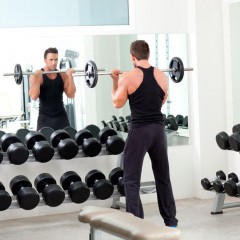 We, as a nation, are pretty much obsessed with gambling – casinos continue to crop up as fast as local law will allow; bookkeepers make more money than some of the most hardworking executives and every time you turn around in a gas station or convenience store you can't help but to bump into a lottery machine or scratch-off ticket case.  You almost can't log onto the internet at all without being offered the option of betting on sporting events or playing virtual poker for money, so even the local ordinances that prevent gambling in some areas can be circumvented to participate in your favorite type of wagering.
Much of what you see about gambling is negative news, talk of the addiction forcing people out of their homes, driving families apart and even causing people to steal to fund the habit.  I plan on taking one of America's favorite addictive hobbies and putting a potentially positive spin on it here – I want to encourage people to use the powerful lure of gambling for the purpose of good.
We've talked a bit about using competition to help drive your urge to workout, about signing up for an event to give you the much needed push in the proper direction when it comes to your training, now we'll take it one step further for those of you who need the utmost in motivation when it comes to getting off of your butt.  We're going to use the ultimate in motivational tools to reignite the interest in your training – we're going to throw money (and glory) into the mix.
This practice is easier to implement into your routine than you might think, regardless of your training goal.  Just take a look around and see all of the people who are out of shape and struggling to find motivation themselves: your office, neighborhood and favorite hangout are probably all loaded with people who are both willing and in need of this type of motivation as well – all you need to do is identify them.
The only real concern is the fact that your goal is definable – it's impossible to impartially judge "who looks better" after the duration of the bet – so, in order for this to work, you'll need a concrete goal before setting up your wager.  Say, for example, that a several month long feeding frenzy, in which your only real activity has involved pushing buttons on your remote control or contemplating the set up of your Wii Fit, has caused you to grow a bit thick around the middle, that your spare tire would probably suit a tractor trailer better than your Mazda Miata now – the goal of losing twenty pounds fastest, or who can melt away the most pounds in a given time frame would be suitable options for a fitness related bet.
Take a gander around the office and find another fatty who's washing down his rice cake with a 64 oz fountain soda or seek out the guy at the local pub who's always bragging about what a great athlete he used to be in high school as he rests his mug of light beer upon his shelf like gut and you've likely found a good partner for your bet.  Make sure it's not someone that you'll feel sorry for or someone that you'll feel guilty about crushing, because once money becomes part of the equation, the competition is usually no longer very friendly.
Bring up the conversation innocently, talk about the changes you'd like to see yourself make and what you'll need to do in order to get there – if the conversation continues with your target expressing interest in similar goals, then offer up the wager as a form of motivation.  You'd be surprised how few people can walk away from a bet like this, regardless of the amount suggested and especially if there are other people around as witness.
Get the details of the wager all worked out: like the location of the "official" before and after weight-ins, the exact parameters of the wager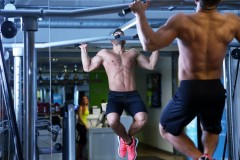 itself (like whether you are betting on total pounds lost or percentage of bodyweight lost) and who will serve as judge should there be a need for one, and you'll be surprised at how much easier it will seem for you to do the things necessary for you to start progressing toward your goal.  Many people know exactly what they are doing that is making them overweight or out of shape, but are unwilling to change their poor habits (both eating and activity) because they don't feel as though the effort is worth it – to many Americans, the effort required to get in better shape is too much, until competition fueled by money comes into play.
Once you've got yourself an adversary and an award waiting at the end of the road, you'll have the unbreakable determination necessary to get out of bed an hour earlier to hit the gym and you'll find the indomitable will to forego your mid-afternoon snack of Tasty-Cakes and a vanilla milkshake in favor of a healthier option.  Those tasks that seemed impossible will now be a source of joy as you feel yourself closing in on that precious stack of money and vanquishing your unworthy opponent.
Have a big goal or want to try and make a big score?  Get your entire office or all of the regulars at your favorite hangout involved in the wager.  Get everyone who wants to be part of the bet to kick twenty-five bucks into the pot that will go to the winner and you'll further increase your motivation and your potential earnings.
This type of motivation often works beyond the duration of the bet itself as well, especially if the duration of the bet is a longer period of time (like 30 days or more).  Once you've found a way to incorporate healthier habits into your life for a reasonable amount of time and you see the results that you've achieved, it will be easier for you to continue on with your efforts once the wager is through.
In all seriousness, you don't have much to lose in giving this method of motivation a shot – even if you don't come away with the prize it will be well worth the loss of twenty-five or so bucks to have gotten yourself in better shape.  In the process, you'll likely learn a good bit about manipulating your schedule in order to fit in things like working out and cooking healthier.  You could learn what it takes to be a healthier person and you can't put a price on the value of that.