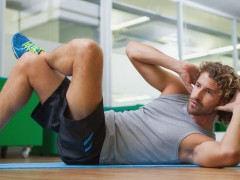 I've been involved in some aspect of training and physical culture for nearly two decades.  I've had times where I was being coached, times where I was doing the coaching, times when I was alone and times where there were so many people working together in the gym that you cooled down before you got a chance to grab the bar for your next set.
One thing I've learned in that time is that a good training partner can be worth their weight in gold – they can help to push you beyond what you ever thought possible by infusing you with their energy during a tough set, they can give you the kick in the ass that you need to get up and get to the gym when you're tired or unmotivated and they can ensure that your form remains good as you push through the final reps of an exceedingly tough, all-out set.
Another thing that I've learned over the course of my years in the gym is that a really good training partner is hard to come by.  Most people that you form a pact with will leave you high and dry, they'll flake out on you at a moments notice and leave you to fend for yourself in the cold and lonely gym.
I've managed to make the best of solitary training time, in fact I've learned to thrive with nothing but myself and my music – but I do understand the lure of companionship when trying to achieve a goal, especially if you are new to the quest for bettering yourself.  Getting started on your fitness or weight loss journey can be confusing with all of the information out there; it helps if you're got someone by your side to help, at least a little with motivation.
Have you ever heard the saying "if you're scared, get a dog"? – I've got another one for you – if you're fat, get a dog (that is, of course, presuming that you no longer want to be fat).  I know that some of you are probably thinking, "Where the hell is the correlation between getting a dog and being healthier?"
Actually, when you get past some of the minor negative things that are often associated with any kind of pet ownership, there are a ton of health benefits that stem from having a four legged friend in your life.  There are plenty of studies detailing how pets can help stave off depression, lower blood pressure and reduce stress, helping their human companions live a longer life – but here we're going to put the focus on the fitness benefits that having a dog as a training partner can provide.
First things first – your dog will need to get out if you want him to be healthy, you'll have no choice but to get up off of your ass and take a stroll several times a day unless you want to be steam cleaning your carpet more than you wash yourself.  If you lead a pretty sedentary life, chances are that these 4 or so fifteen minutes strolls each day will be a great beginning into your weight loss journey.
You can increase the intensity or duration of your walks/jogs as soon as you are physically prepared – one thing about having a dog as your training partner is that you'll never hear complaints about the length of your "training sessions."  I've gone running with my dog several times in a single day and every single time I grab the leash he jumps up ready to go again.  Doesn't matter if it's hot or cold outside, if it's morning, noon or night – if you're ready to get in a quick 15-20 minute jog, your four legged training partner will be by your side.