For those of you who don't know me and who've never visited my blog, the primary focus of my own personal training is increasing strength, but the style of my training would probably seem a bit skewed to those with conventional views of strength training.  Rather than trying to achieve an enormous bench press like a lot of strength athletes, my goals are set on performing "old school" feats of strength.
Over the course of the last year+ I've crushed full cans of soda, bent nails and bolts (and assorted other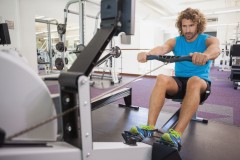 hunks of metal), lifted a reasonable amount of weight with a single finger, juggled kettlebells and I've torn decks of poker cards.  I've worked on doing things that it would probably have been customary to have seen being done in the sideshow of a circus some years ago – and I've learned that there is a lot more to the feats themselves than just the pride of achievement, these feats provide one hell of an intense workout.
Some of my workouts focus on or revolve around the performing of a single feat – rather than doing a typical "chest and triceps" workout that you'll see guys performing in the gym.  I'll bend (or attempt to bend) through a series of progressively harder pieces of steel (typically nails, graded bolts, or cold-rolled steel) rather than performing more traditional exercises for a pre-determined number of sets and reps.  I know that it sounds bizarre to someone unfamiliar with the concept, but trust me when I say that a workout consisting entirely of difficult bends or tearing decks of cards will have you sore in muscles that you weren't even sure existed before you attempted these feats – I've never experienced the gains in strength that I have since I've incorporated training for old school feats into my repertoire, even during the three+ years I spent training for power-lifting.
Things like bending, tearing and full soda (or beer) crushing require that you call power from pretty much all over your body and generate it through your hands to the target – your core, chest, back, arms, hands and mind will get taxed like you would never have expected and you'll begin to yield noticeable results in short periods of time because of your muscles being forced to adapt to the new and incredibly stressful type of activity.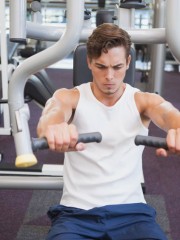 One of the more commonly performed and visually impressive feats is tearing a complete deck of poker cards in half, it also happens to be one of the very first that I trained for.  Unfortunately, training info on many old school feats was very limited until recently, but thankfully for me there was a little information available to get me started (nothing compared to what's available today in terms of training info but a decent place to start anyway).  Pro strongman Clay Edgin had put together a nice article for Heavy Sports Magazine that detailed some of his training for tearing a deck of cards, as well as the different grips that could be used to attempt the feat.  It wasn't necessarily an ultimate resource for card tearing, but I'm certainly glad it was there for me to learn from.
Had it not been for Clay's article, I probably would have struggled for days or weeks determining the appropriate hand position with which to start and I also would have had to try and guess as to suitable exercises with which to supplement the movement.  Clay's article made the start of my journey for this particular feat much smoother and probably helped me achieve success with it much faster than I would have without the valuable information that it provided.
I still use sledge hammer levering as described in Clay's article as one of my supplemental movements and my personal experience has led me to add several other supplemental movements to my routine as I continue to attempt to rip cards in more difficult fashions (60+ cards, behind the back, between the legs etc.).  I incorporate heavy wrist curls and plate curls into my workouts on a regular basis to further strengthen my wrists and I practice tearing several times a week in order to further improve my technique and to keep my hands conditioned to the stress.