Since my recent heart break I have done what any other sensible individual would do which is get back in the game.? I can?t lie, my heart still hurts. ?I am not totally invested and am definitely feeling a little bit guarded after my last fiasco.? Still, it is par for the course and life goes on so?
I go through my mismatches on Match.com.? Shit, I really don?t know why I bother with that site.? I say it is just another avenue, but to where?? Hell????? Logging in is like a cruel sick joke.? Sure you have 5+ emails and a slew of winks but look at the merchandise!? It?s like shopping in the clearance aisle where all the merchandise is sold ?as is? and that ain?t saying much!? Sure, everyone?s got their problems and baggage but I?m going to need physical therapy for all the baggage that?s coming my way these days.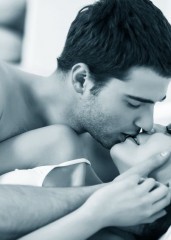 So I scroll down the ?winks?? I see one guy that sparks a teeny tiny bit of interest so I click on his profile.? I?ll call him ?Al-otta Braun, No Brain?. It?s generic like most of them on Match but at least I am not debilitated by red flags in the first paragraph.? Pictures: eh. He?s 32, kind of cute, in shape and not what I am drawn to, but perhaps ?doable?.? We email and then move to a phone conversation after which we decide to cut to the chase and meet up.? We agree upon a Saturday day date. I like it! He asks what I want to do and I suggest he come to me for the first date.? As I said, I am somewhat traditional about dating etiquette so I feel if a guy is interested, he should make the initial attempt to come by me first or at the very least meet half way.? He agrees and we meet for sushi.
He?s a ? hour late to meet me. Forgivable being it?s the first date. It turns out the date was ok. I can?t totally get a feel for him yet, but there were some laughs. So I didn?t have a million butterflies, albeit I didn?t feel nauseous or have problems controlling my facial expressions either.? That?s a good sign right? Yes, dating has really come to this! One thing he did that was a no-no was answer his cell in the middle of our date and have a full-on conversation. Ugh, embarrassing and tacky. I don?t say anything though because I am just observing to see what this guy is about.
I have mentioned in the past that there are certain unsaid rules to dating. I know what you?re thinking but it is true.? Although many guys say they want a fun, exciting, spontaneous girl, these are not the girls they often settle down with.? Essentially these unsaid rules are in place to help minimize anything going horribly awry during the first few dates. It?s true that first impressions are everything. My girlfriends and I talk about it often and refer to it as ?STOPPING THE MADNESS? (STM). What is this? It's the madness that occurs when you are dating and do not have any rules to ground you. Before you know it, you accidentally have one too many drinks and make a poor decision.? These mishaps can be easily avoided though.
One of the basic rules involves meeting at a destination for the first couple of dates. It helps cut down on the amount of drinks decreasing the chances for confusion or that one too many that comes along with the ol? beer goggles/liquid courage scenario (well, if she?s responsible and not a drunk driver). Secondly, meeting at a destination also narrows down the possibility having to perform the infamous ?walk of shame? the next morning since you are less likely to go home together if you drive separately.