This next question is brought to us by our friends over at Leftos.com.

Is it possible to ?talk a relationship to death?? Sadly the answer is yes.
The thrill and excitement in a relationship is largely based on the tension and uncertainty you feel with the other person.?Talking and sharing your feelings with your girlfriend or boyfriend releases that tension.?And the release of that tension temporarily feels good. But overtime, without the underlying tension, a lot of the excitement begins to drain from the relationship. Talking too much hurts a relationship on a couple levels.
1. The mystery is gone.
If you watch the television show Lost, I think you?ll agree with me that the first season was better than the next five seasons combined.?This is because the first season held so much back from us ??it constantly left us wanting more.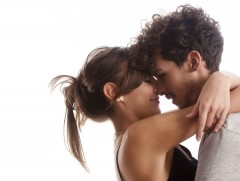 That is how a relationship should be (especially in the beginning.)?You should always leave the other person wanting more.?That desire for more increases the tension.?And a ?sexy? relationship is one in which there is a continual buildup and release of tension.? The ?mystery? is what the other person doesn't know about you.?This could include your true feelings for them, your past, your passions and part of the fun of a relationship is slowly unraveling the mystery of another person.?Don?t deprive your girlfriend of that mystery.
2.?You give too much power away.
Women are generally like cats.?You might have read about the ?cat and the string? theory in the book The Game.?It basically states that a woman?s interest in you is strongest when you are just out of reach.?Just as the cat gets bored of the string when it finally catches it, the woman gets bored with the man who is easily caught.
This is why you should always appear just out of reach of a woman.?This doesn?t mean you can?t commit to a relationship.?It just means that there is always a small part of you that you leave her wondering about, wanting more, and obsessing over.
That is how you keep her interested.
And the more time you spend talking to the woman ? the more likely she is going to begin to feel like she has ?caught? you.?And once this feeling enters her mind, her interest will begin to decrease.
So, this is why I always recommend holding back a little bit with a woman.?And the irony is, the more you feel like you don?t want to hold back ? the more likely it is that you should be.