Ed. Note: Yesterday we brought you Daniel Rose's three tips for how to utilize the three orgasm trigger points, and today (since it's THAT important of a subject, people!) we have the female perspective on the Big O. Enjoy.
Women will receive a million and a half roses this Valentine's Day. They will nibble a billion dollars worth of chocolates. It is estimated that somewhere in the vicinity of $15 billion will spent on gifts for this day. Yet according to the experts, 70% of the women out there won't be getting an orgasm this Valentine's (although many of them will pretend that they did).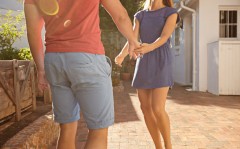 This Valentine's, did you forget the big O? A really great orgasm will endear her to you more than any gift you could buy.
The most important thing a guy needs to fully understand is that every woman is completely unique and different. One size definitely does not fit all in sexual matters. However, there are a few common denominators that it helps to know, which I've listed below, and in all other respects there's common sense.
The first rule, then, is to forget everything you ever knew (or thought you knew) about women. Think of your partner as an entirely new species for you to analyze and attempt to figure about. Even if you've been with her for ten years, there's a good chance you've been annoying her for at least nine of those years with the same old ideas and habits you came into the relationship with, ideas that she couldn't quite manage to change, in spite of her best efforts to do so. In matters of sex, she might have adapted herself to these habits by simply "giving in" every now and then, and just "doing it," probably as little as she thinks she can by with, and throwing in the fake orgasm to get it over with quickly.
Does this sound overly grim? Well, relationships can be that way, but the good news is that even if you started all over today with a whole new, even more attractive woman (with larger breasts), you'd still have to go through this initial learning period if you want your partner to enjoy having sex with you. I'm talking really enjoy having sex with you. And brand new relationships don't really count. There are too many other things going on in those first weeks of a relationship, almost all of which isn't real.
There's no way around it. If you're going to have a genuinely good sex life you're going to have to actually get to know her. You're going to have to find out what she likes and doesn't like. The good news is that this is actually one of the few things that are easier done than said. But many men resist it because they hate the idea of it, and they'll try anything else but that. They'd rather believe that women are impossible to figure out than to accept that each one could be different than the first girl he dated, who he believed was training him for all the women to come. The woman he's dating today could be saying, "No really. I swear that I really do want you to touch me there," and if it wasn't a part of his earlier training he will be thinking, "There's no figuring this woman out!" The truth is, the most difficult thing for men to accept about women is that no two of them are alike. Men want women to be uniform in their behaviors because that's pretty much the way men are. There are three basic ways to please 99.9% of the men out there. Everyone from Dr. Phil to Dave Chapel knows what they are (Cosmo's actually the only one who hasn't figured this out yet). This diversity in the needs and desires of women makes them seem so much more complex to men.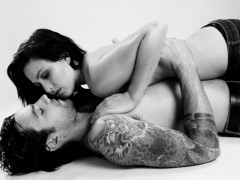 The woman you're with is not as complex as you think; but she is more complex than you. All you really need to do to figure her out is to watch and listen, and then act on what you see. A woman whose upset won't always tell you exactly what's bothering her (be grateful when you have a woman who will…or did you mistake that useful information for meaningless "bitching"?), but if you're paying attention you will notice a pattern in her moods that will help you figure it out.  Likewise, when she expresses joy and other positive emotions, like arousal, you would be wise to sit up and take note. Don't doubt what you see, assuming that it "doesn't make any sense." Take her behaviors at face value and accept her the way she is. If she asks you for something that will help the relationship; do it. I'm not talking about unreasonable demands that stem from a culture of entitlement, but rather, I'm speaking of reasonable requests – simple little things that guys tend to resist doing out of stubbornness. Do those things. Do them joyfully.
This is actually the most difficult (but most crucial) part of achieving a more positive, fulfilling sex life with your partner. It will only get easier from here. So assuming you've got that first step down, let's talk about the many other facets of the female orgasm.