There is a crucial point that I teach to turn a woman on with Dominance. And that is that, NO, you should absolutely, positively NEVER be saying super-dominant, abusive lines in your dirty talk.
Some women do like to be abused during sex, but only a very small number of psychologically damaged women. Even if you found one of these women, you would not want a relationship with someone screwed up this much anyways. The vast majority of women (and ALL sexually healthy women) do NOT like to be abused during sex. And in fact, this is why a lot of guys aren't turning women on through Dominance.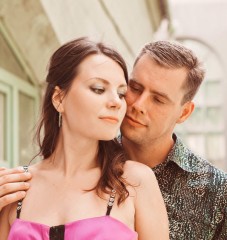 Dominance is being in control, having sexual confidence, and leading her through intensely pleasurable experiences in the bedroom. It is a technique that you use to give her PLEASURE and to enhance your relationship, not a way to demeaning her or putting her down.
Can You Spot The Difference Between These Two Lines?
"You're all mine…your pussy belongs to me."
Vs.
"This pussy isn't that good."
Ask any woman, and she'll tell you that if you said the first one in bed, it would be a huge turn on. It plays right into her fantasies of a man possessing her and "taking" her.
And she'll also tell you that the second one is a huge turn off which would probably cause her to stop sex right there and kick you in the nuts. Seriously…would YOU be turned on if a girl said "you're not that good at sex…this cock isn't that good"?
Exercise: Spot The Correct Dirty Talk Line
The distinction between quality Dominance which turns her on, and abusive, creepy, weirdo "dominance" can seem subtle, but it's super-important. If you get this down you can make her orgasm with just your words ALONE. But if you don't, then your attempts at Dominance will actually be turning her OFF.
So, let's do a little test of your sexual skills right here: Can you spot the dirty talk line which will turn her on, and the one which will turn her off?
**EXAMPLE #1**
"You're a stupid bitch…you're not good enough for me."
Vs.
"You're so wet for me baby…you must have been thinking about getting fucked all day."
Which one is right?
If you guessed number one … you might want to review he chapter on dirty talk in the Sex God Method at least five times before you attempt any dirty talk in bed. This line contains no language that will turn her on, and is abusive and hurtful.
If you guessed number two, you're cleared to turn her on with your words. Saying something like this will turn her on because it lets her know that you're conscious of just how dirty her mind is, and that you know about how she thinks about sex all day while pretending to be professional and platonic.
**EXAMPLE #2**
"I'm going to make you cum, and there's NOTHING you can do about it."
Vs.
"You can't even cum…you're so pathetic."
Of course the second line is going to be a turn off for her, and the first line is going to be a turn on. It turns her on because you are dominantly leading her through the intense experience of orgasm. She'll try to fight it, which will only make it more powerful when she does cum.
And the second line…I'd be surprised if she was EVER able to have an orgasm again if a guy said something that viciously hurtful to her during sex.
What To Learn From This Lesson
The critical takeaway here is to learn that Dominance and dirty talk will not work if you're using them to abuse and degrade her. They'll only work if you're giving them to her as a gift which allows her to reach new heights of pleasure. And in the process of showing you that, I also gave you three solid dirty talk lines which you can start using tonight 😉
My advice is to start studying how to REALLY turn a woman on in bed through dirty talk. Start with milder dirty talk such as telling her how good it feels to be inside her, then work your way up to the more intense stuff. Be sure that your dominance and dirty talk is not abusive or degrading – make sure that it's the quality stuff which gives her pleasure and taps into her fantasies.
And, of course, if you'd like to learn more about how to turn a woman on with Dominance the RIGHT way, I encourage you to give the Sex God Method a try.