Getting dates using alternative apps (with screenshots)
Consider some other dating apps if you're sick of Tinder
Lately there has been a slow trickle of women migrating away from Tinder and toward other dating apps that offer a little more protection from the crazies, as I talked about last week.
While Tinder is still going strong, there are many other dating apps with enough users that make them work checking out. Here is a transcript from a recent interaction I had on The Grade: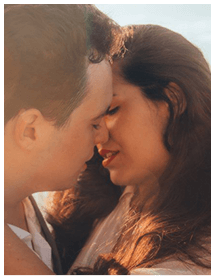 Simple Trick Tells You if a Girl Wants You to Kiss Her
Do girls leave you confused as to whether or not they like you?

Let's face it. Girl's don't make it easy for you. She will often send mixed signals leaving you unable to tell if she is being friendly or flirty. If you read her signals wrong you risk rejection and embarrassment. Or worse, you blow it with a girl who wanted to kiss you.
Here is a simple and innocent move that will instantly tell you if you're in the friend zone, or if she's waiting for you to kiss her.

We respect your email privacy
About Jordan Murray Jordan is a journalist who has written extensively about dating and lifestyle for multiple publications.