Now you can sift through potential matches based on political preferences
Conventional dating wisdom says you're supposed to avoid talking about politics upon first meeting someone, but the dating app Bumble now allows you to display your political preference on your profile. Whether you are a serious supporter of one of the 2016 presidential candidates, a fictional candidate such as Frank Underwood, or a joke of a candidate like Kanye West 2020, Bumble has a badge you can proudly adorn your profile with.
"Political views are more than just current topics, sometimes entire value sets can be tied to political views. It tells you a lot about a person," says Whitney Wolfe, creator and CEO of Bumble, "Think of it as digital bumper sticker."

By knowing if your potential match has similar political views, it's easier to decide if that person is worth pursuing. Or if you don't really care about politics, this is a great way to filter out the people who might bore you with debate recaps.

"The filters work two ways: If you are really basing a relationship on if you have common interests and values with someone, or if you're just looking to have some lighthearted fun" (see the Kanye 2020 sticker), Wolfe says.
Here's a picture from the Mashable article with examples of how the political affiliation is displayed on your profile: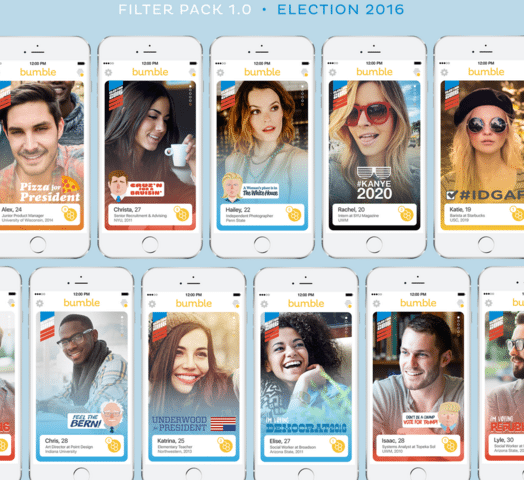 Is it better to know these things up front? Or does it take away from the experience of actually sitting in front of each other in person and uncovering things organically?
On one hand, if you're feeling the Bern and one of your matches is a hardcore Trump supporter, maybe it's better to sidestep that first date. On the other hand, you never know the paradoxical potential to form a bond with someone that might exist unless you give it a change to happen.