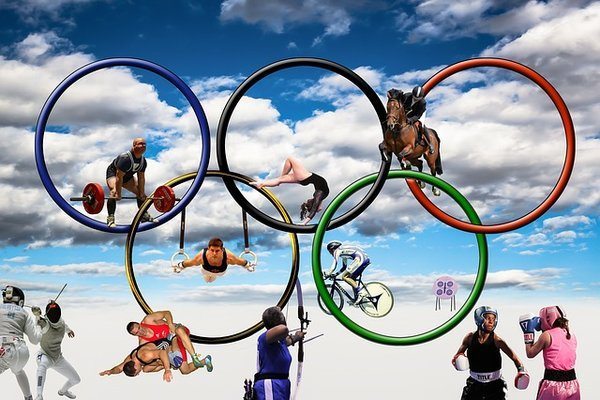 Michael Phelps, Simone Biles, Simone Manuel, Michelle Carter—names associated with pride, skill, endurance, excellence, in short, perfection. They are persons who will forever live in the annals of the Olympic games not only because of the gold medals they won but because they broke barriers and shattered records that are the very stuff of history.
I always look forward to the Olympic Games. I have always believed that its 4-year cycle gives us just enough time to suffer through the varied range of stupidity, ignorance, mediocrity, and sloth that is our culture before we are treated to the delights of excellence at its peak.
Athletic excellence is on display year-round in the baseball, basketball, and football seasons, you may say. However, there is something about the spectacle of the world's top athletes gathering together to compete against one another—pitting all their talent, energy, and drive against their peers in a friendly and convivial spirit of sportsmanship and goodwill—that makes the Olympic Games special.
As we take in the Rio Olympics, we should not forget the civilization that gave birth to them. The city-states of Ancient Greece held the games to honor the Greek god Zeus, and they were bound up in religious celebration and festivities. Athletes competed in the nude and the event also included artistic competitions. Underlying all of this was the notion of what the Greeks called arête, which, roughly translated, means virtue or excellence. The pursuit of excellence, the determination to be the best in some field of endeavor, the will to reach, discover, or create perfection in a world of error and contingency was an essential part of Hellenistic culture. The games represented this ideal in the realm of sport.
In celebrating the accomplishments of today's Olympic heroes, you should remember this Greek ideal and seek to apply it your daily life. You should strive for perfection in whatever you do. For it is the only way to get to the top of your profession, trade, or other life-defining activity.
The advice may seem obvious, but it isn't. We live in a culture in which the demand for competence, much less excellence, is weak. You have no doubt seen it yourself. People talk about wanting to hire and advance smart, hard-working, and dedicated people and reaping the benefits of the work produced by them. But in most cases from the CEO on down to the office receptionist, imprecision, inaccuracy, sloppiness, and bungling reigns. People advance through the relationships they form, not because of the good work that they do. Bad work is passed off as acceptable; constant error is described as "just being human"; and consistent incompetence is not openly confronted for fear of giving offense or being seen as unpleasant and anti-social.
You should not be seduced by such an environment of dullness, unaccountability, and care-free error-making. You may have to play politics and sell yourself to get noticed. However, you should not depend on those actions alone to get to the top. Cultivating a drive to master the complexities of your job and be perfect in all that it requires will make you a standout amongst your peers. Like the gold-winning Olympiads of this summer's games, it will ensure that you come out on top when put to the most rigorous of tests.