"The Art of Approaching" Book Review

The Art of Approaching by Joseph Mathews
The Bobby Rio Rating ***
The last of the three books I say are must reads is The art of approaching by Joseph Mathews. This is limited to the topic of openers. But because that is the only focus of the book, it gives you about fifty really good openers. Not only does he give you them word for word, but he breaks them down and explains why they work. This book is ideal for those that have the right attitude but just don't know how to start a conversation with a woman. The book also gives a lot of great advice for overcoming your shyness when approaching women. Many people rate this one of the best books out there.
The other great reason to own this book is because creates the ability in you to create your own openers. By reading the ones that he has given I was able to come up with quite a few of my own that were tailored specifically for me.
This book is ideal for guys that are shy, freeze around girls, or just generally can't think of anything witty to begin a conversation with.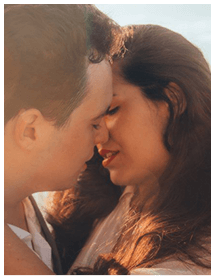 Simple Trick Tells You if a Girl Wants You to Kiss Her
Do girls leave you confused as to whether or not they like you?

Let's face it. Girl's don't make it easy for you. She will often send mixed signals leaving you unable to tell if she is being friendly or flirty. If you read her signals wrong you risk rejection and embarrassment. Or worse, you blow it with a girl who wanted to kiss you.
Here is a simple and innocent move that will instantly tell you if you're in the friend zone, or if she's waiting for you to kiss her.

We respect your email privacy
About MikeStoute Michael Stoute here, and at your service. I am a writer/editor/lover and a fighter. My words are weapons of wisdom so watch out, you may learn something...or better yet, maybe you can teach me something! Have a question? Please try to leave it in the comments, it will get a faster response than an email. Otherwise, Email Me