Sex in the City as an Instructional Video
I was thinking about something the other day. We recently completed a podcast about making female friends. The importance of making female friends is wide, and in the podcast that will be added to the site in a few days, we cover the reasons. But one of the most important reasons to make female friends is because it really helps you understand women better. By having some female friends you are able to get in their heads and see how they think. What am i getting at with this? Well, if at the moment you don't have luxury of calling up some of your female friends to chat, you can do the next best thing. Watch Sex in the City. Girls love that show. Why? Because they all claim that is exactly how girls are. So that shows represents women and the way they talk and think better than any other show out there. I'm not saying that watching a dvd can take the place of talking and communicating with women. But if you are still putting the pussy on the pedestal or are just clueless as to how women think I highly suggest watching as much of that show as you can. The way the girls talk about relationships and sex will give you some insight into how women view these things. You will probably begin to see that they are just as hungry, horny, and fucked up about everything as we are. So check it out.
Check out the DVDs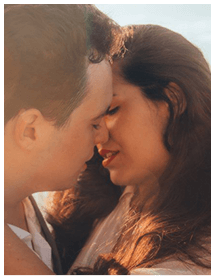 Simple Trick Tells You if a Girl Wants You to Kiss Her
Do girls leave you confused as to whether or not they like you?

Let's face it. Girl's don't make it easy for you. She will often send mixed signals leaving you unable to tell if she is being friendly or flirty. If you read her signals wrong you risk rejection and embarrassment. Or worse, you blow it with a girl who wanted to kiss you.
Here is a simple and innocent move that will instantly tell you if you're in the friend zone, or if she's waiting for you to kiss her.

We respect your email privacy
About MikeStoute Michael Stoute here, and at your service. I am a writer/editor/lover and a fighter. My words are weapons of wisdom so watch out, you may learn something...or better yet, maybe you can teach me something! Have a question? Please try to leave it in the comments, it will get a faster response than an email. Otherwise, Email Me