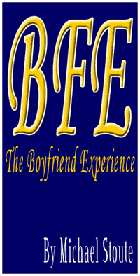 Ok Guys, I have finally decided to write a short ebook talking about the Boyfriend Experience mentioned in our podcasts. It's short and to the point, no fluff in here… Can serve as a good piece of material to read over and over when you start feeling hungry in the beginning stages of a relationship. A lot of the concepts are from personal experiences and have been discussed with many women in my life including Nikki Borne from our podcast on "The Sickness".
I hope you find it helpful, here is the intro:
The Boyfriend Experience
By Michael Stoute
www.TheSeductionBible.com

Download the Ebook Instantly here
Tired of finally getting the girl you want to then loose her and not know why?
I have been here many times, as I'm sure most of you have. Learning how to recognize your symptoms of getting the sickness and becoming needy is essential. The problem is that you finally like this girl so now your vision is blurred. Yet all the girls that like us seem to fall into our laps and we loose interest, a vicious circle…
Here are the main points I cover in this eBook:
How to keep a clear head when your emotions are out of control for a girl
Manners and class…Being a real man and a good person in general, with a playful attitude…
When to be hot and when to be cold (details about going for the first kiss)
The beginning of the relationship process and how to pace your self to win her over.
Being passionate and guaranteeing pleasure – Kissing, Foreplay and other tips 😉
Sealing the deal and keeping her interest after you have hooked-up or had sex…