I love New York 2 "20 Pack" AFC of the week

As Bobby might have mentioned on the past, I am a bit of a VH1 Reality freak so I decided to write a new section called AFC of the week, actually I was inspired. Watching these shows you may not learn too much of what to do, but you can definitely learn what NOT to do.
So my first [[[AFC]]] (Average Frustrated Chump) of the week is 20 Pack from "I love New York 2". He pulled one of the all time worse moves I have ever seen. In last episode he was alone with Ms. New York on a date and she asked him to kiss her. He leans in and says, "you sure?" I mean WTF! This guys profile says he runs a male review,

so he has enough balls to dance practicality naked in front of strangers but not enough to kiss a woman on live TV!
Well he was kicked off that episode, obviously… and he says in the aftermath "If she wants a guy who is not going to go slow then she is just going to get hurt like the last time" Oh please!
Stoute Out!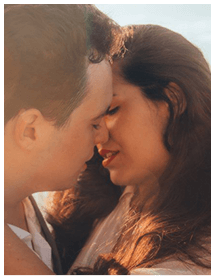 Simple Trick Tells You if a Girl Wants You to Kiss Her
Do girls leave you confused as to whether or not they like you?

Let's face it. Girl's don't make it easy for you. She will often send mixed signals leaving you unable to tell if she is being friendly or flirty. If you read her signals wrong you risk rejection and embarrassment. Or worse, you blow it with a girl who wanted to kiss you.
Here is a simple and innocent move that will instantly tell you if you're in the friend zone, or if she's waiting for you to kiss her.

We respect your email privacy
About MikeStoute Michael Stoute here, and at your service. I am a writer/editor/lover and a fighter. My words are weapons of wisdom so watch out, you may learn something...or better yet, maybe you can teach me something! Have a question? Please try to leave it in the comments, it will get a faster response than an email. Otherwise, Email Me