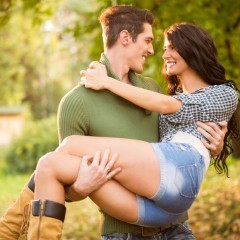 I can't take credit for this list- as it was some girl blabbering about this in a video I saw that urged me to write them down for you guys.
While the tone of the girl's statements annoy me, she is clearly being honest… so the advice is worth taking.
1. Not Kissing First
Avoiding kissing her first makes her feel like you're paying by the hour and trying to get your money's worth by cutting out the non essentials. A proper passionate kiss is the ultimate form of foreplay.
2. Blowing too Hard in Her Ear
Admit it, some kid at school told you girls love this. Well, there´s a difference between being erotic and blowing like youre trying to extinguish the candles at your 50th birthday party. That hurts.
3. Not Shaving
You often forget you have a porcupine strapped to your chin which you rake across your partners face and thighs. When she turns her head from side to side, its not passion, its avoidance.
4. Squeezing Her Breasts
Most men act like a housewife testing a melon when they get their hands on a pair. Stroke, caress, and smooth them.
5. Biting Her Nipples
Why do men fasten onto a womans nipples… then clamp down like theyre trying to deflate her body via her breasts. Nipples are highly sensitive. They can´t stand up to chewing. Lick and suck them gently. Flicking your tongue across them in good. Pretending they are a doggie toy isn´t.
6. Twiddling Her Nipples
Stop doing that thing where you twiddle her nipples between your fingers and thumb like youre trying to find a radio station in a hilly area. Focus on the whole breasts… not just the exclamation points.
7. Ignoring the Other Parts of Her Body
A woman is not a highway with just three turns offs: Breastville, east and west, and the Midtown tunnel. There are vast areas of her body you´ve ignored far too often as you go bombing straight into her vagina. Start paying some attention to them.
8. Leaving Her a Little Present (not sure if I agree with this)
Condom disposal is the mans responsibility. You wore it… you store it.
9. Stopping for a Break
Women, unlike men, dont pick up where they left off. If you stop, they plummet back to square one fast. If you can tell shes not there… keep going at all costs… numb jaw or not.
10. Undressing Her Awkwardly
Women hate looking stupid. But stupid she will look when naked at the waist, with a sweater stuck over her head. Unwrap her like an elegant present, not a kids toy.